Secondhand smoke (SHS) kills, and WHO and other health authorities have declared that there is no safe level of exposure to SHS. Non-smokers exposed to SHS are equally at risk of tobacco-related diseases and premature death as those who actively smoke. Globally, more than a third of all people are regularly exposed to SHS. SHS exposure commonly occurs in homes and workplaces, but exposure also occurs in many public places including in restaurants, bars, markets, airports, public transportation, and even health and education facilities. It is estimated that around 1.2 million premature deaths annually are due to exposure to SHS causing heart disease, stroke, cancer, acute asthma, and others. Even brief exposure can cause immediate and serious health harms.
All people, regardless of age, gender, or socio-economic status, deserve protection of their health, and involuntary exposure to SHS may be considered a violation of the basic human right to life and smoking around children as a form of child abuse.
As recommended in the WHO FCTC Article 8 Guidelines, only a 100% smoke-free environment can effectively protect persons from exposure to tobacco smoke and the health hazards of smoking. Public smoking bans also encourage smokers to quit and discourage youth smoking.
With growing public awareness and support for smoke-free environments, an increasing number of countries have taken steps to protect people from the dangers of tobacco smoke by enacting laws that ban smoking in all public places and create smoke-free environments. The ban covers all forms of tobacco products including waterpipes and e-cigarettes and heated tobacco products.
This chapter describes the progress achieved by ASEAN countries to enforce comprehensive smoke-free laws prohibiting smoking in various public settings. Related initiatives include smoke-free cities, smoke-free world heritage sites, and smoke-free universities with the aim of attaining a smoke-free ASEAN.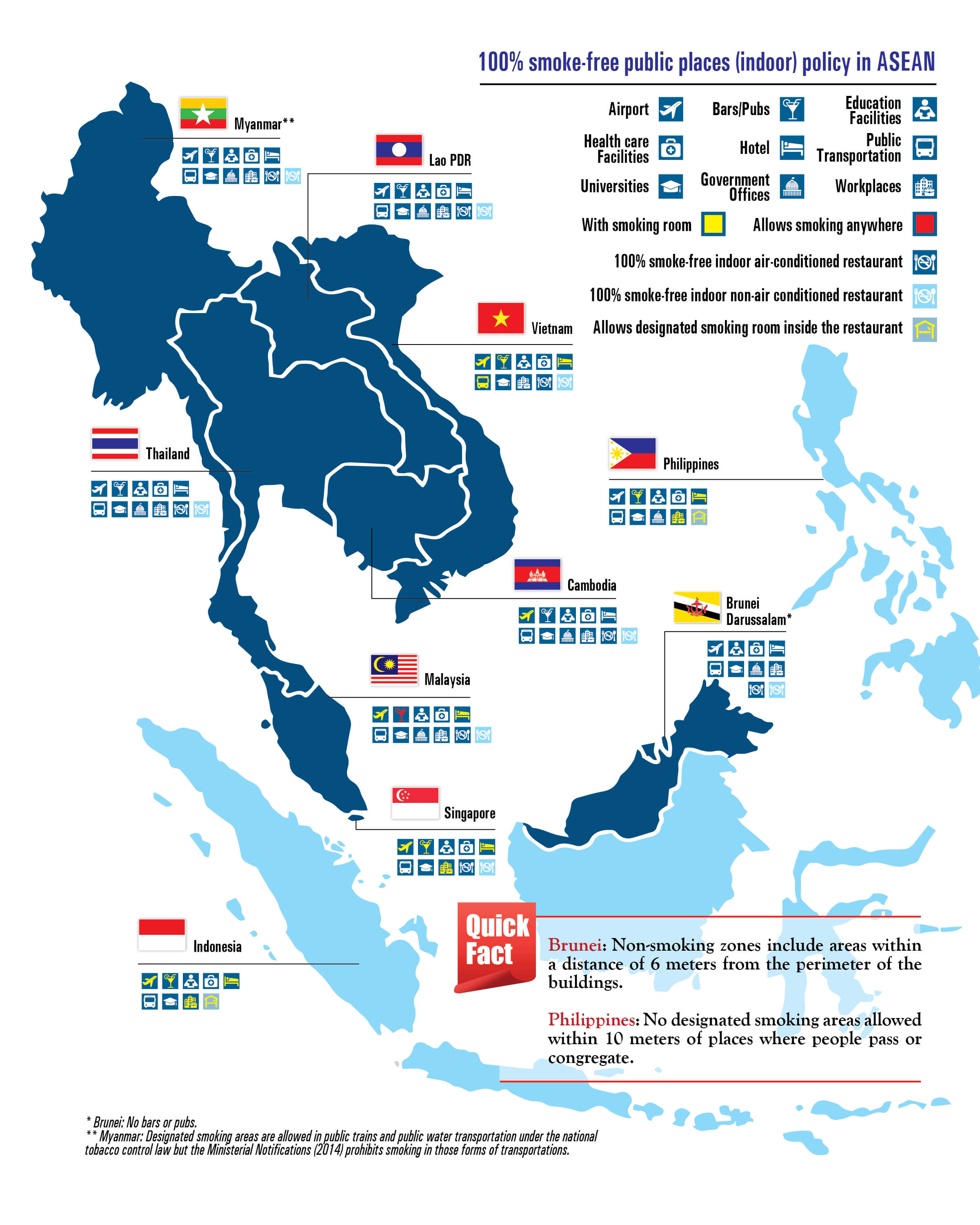 100% smoke-free public places (indoor) policy in ASEANClick to enlarge
Thailand
Ministry of Higher Education, Science, Research and Innovation has established a smoke-free universities network with a total of 164 members. The network aims to support the strengthening the implementation of smoke-free university.