Youth smokers, particularly in low- and middle-income countries, are a huge potential market for industry's future growth. Tobacco companies target children and youths, whom they refer to as "replacement smokers" to replace older smokers who either quit or die from tobacco-related diseases. Youth smoking therefore remains the front line of the tobacco epidemic, as youths are more susceptible to tobacco marketing, and nicotine addiction is more entrenched in the developing adolescent brain. On average, most smokers start smoking before the age of 20.
The tobacco industry keeps inventing new ways to sell harm through novel marketing schemes, attractive and colourful packaging, new flavors, and new products to appeal to the young and first-time smokers. In ASEAN, menthol and flavoured cigarettes are unregulated and widely available. Single stick cigarette sales, which increase accessibility to cigarettes, are banned in all but available in three ASEAN countries (Indonesia, Philippines and Vietnam), while the sale of kiddie packs (containing less than 20-sticks) is still allowed in Indonesia and Philippines.
The emergence and rapid market growth of a new and wider range of alternative nicotine products such as electronic nicotine delivery systems (ENDS, which include e-cigarettes and are available in myriads of flavours) and heated tobacco products (HTPs) are a new challenge for preventing nicotine addiction and other health harms. Such gadgets, with their sleek designs and flashy marketing easily appeal to youths and increase the risk for transitioning to conventional cigarettes, and some countries have already seen a significant rise in teen use.
Globally, there are 111 countries have either banned or restricted the sale of ENDS. Thirty two of these countries (covering 2.4 billion people) ban the sale of ENDS, and the other 79 countries have adopted one or more legislative measures to regulate ENDS, covering 3.2 billion people. In ASEAN, five countries (Brunei, Cambodia, Lao PDR, Singapore, and Thailand) already ban ENDS and HTPs.
Transnational tobacco companies also produce ENDS and HTPs and promote these as being less harmful than conventional cigarettes and as smoking cessation devices. Noting that there are no long-term studies on the safety of these devices and insufficient evidence on their benefit as tools for smoking cessation, the WHO and some national health authorities, such as the Australian National Health and Medical Research Council (NHMRC) and the US National Academies of Sciences, Engineering, and Medicine (NAS), have recommended a precautionary approach and action to minimize harm to users and bystanders and to protect vulnerable groups such as young people, until clear evidence of safety, quality and efficacy are produced. For HTPs, the WHO recommends that these be regulated similarly to other tobacco products.
This chapter also highlights initiatives to protect present and future generations from nicotine addiction and tobacco harms.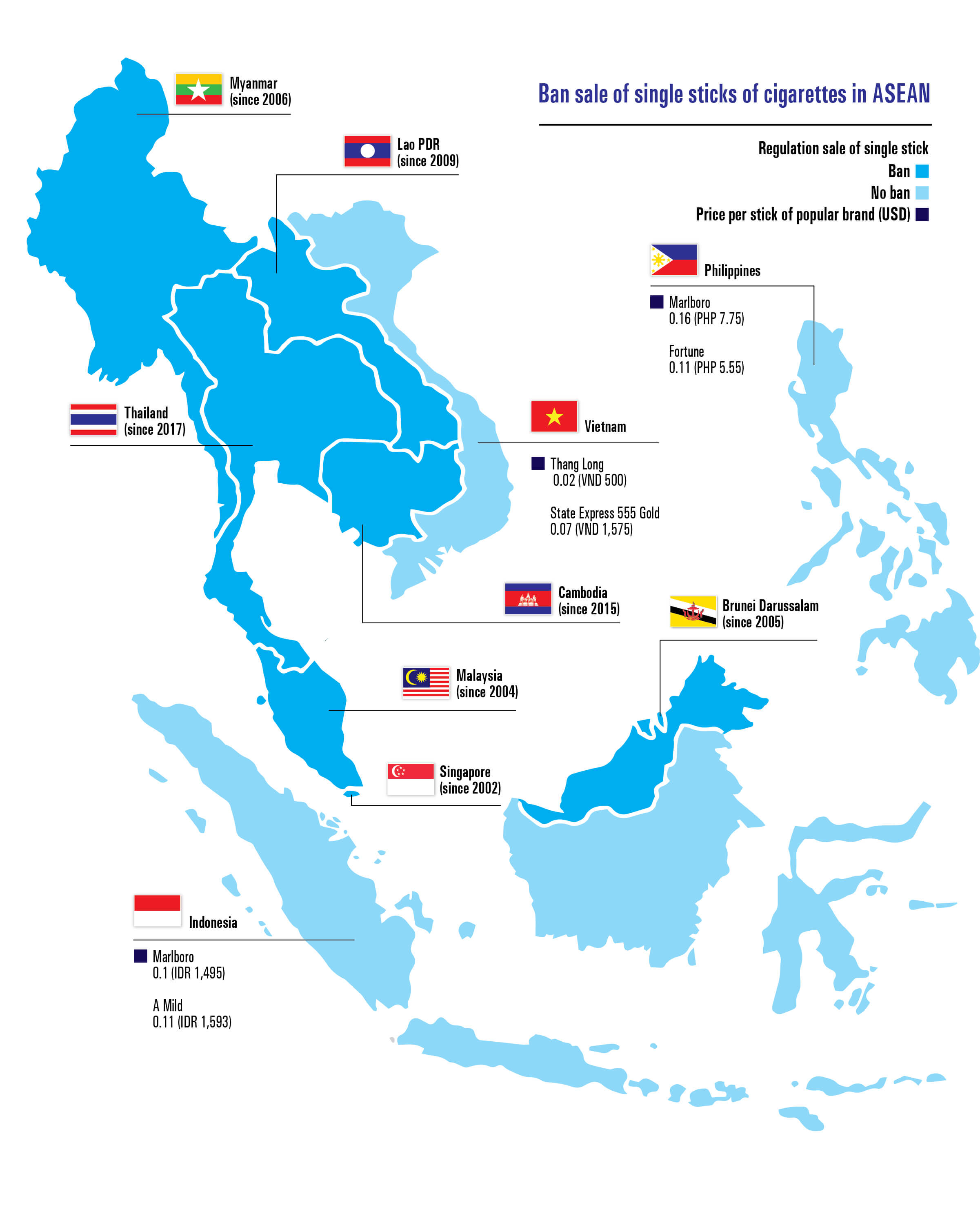 Ban sale of single sticks of cigarettes in ASEANClick to enlarge