Clearing the Air for a Healthier Environment
Secondhand smoke (SHS) kills, and WHO and other health authorities have declared that there is no safe level of exposure to SHS. Non-smokers exposed to SHS are equally at risk of tobacco-related diseases and premature death as those who actively smoke.
Map: Annual deaths attributed to tobacco-related diseases in ASEAN
Globally, more than a third of all people are regularly exposed to SHS. SHS exposure commonly occurs in homes and workplaces, but exposure also occurs in many public places including in restaurants, bars, markets, airports, public transportation, and even health and education facilities. It is estimated that around 890,000 premature deaths annually are due to exposure to SHS causing heart disease, stroke, cancer, acute asthma, and others. Even brief exposure can cause immediate and serious health harms.
All people, regardless of age, gender, or socio-economic status, deserve protection of their health, and involuntary exposure to SHS may be considered a violation of the basic human right to life and smoking around children as a form of child abuse.
As recommended in the WHO FCTC Article 8 Guidelines, only a 100% smoke-free environment can effectively protect persons from exposure to tobacco smoke and the health hazards of smoking. Public smoking bans also encourage smokers to quit and discourage youth smoking.
With growing public awareness and support for smoke-free environments, an increasing number of countries have taken steps to protect people from the dangers of tobacco smoke by enacting laws that ban smoking in all public places and create smoke-free environments.
This chapter describes the progress achieved by ASEAN countries to enforce comprehensive smoke-free laws prohibiting smoking in various public settings. Related initiatives include smoke-free cities, smoke-free world heritage sites, and smoke-free universities with the aim of attaining a smoke-free ASEAN.
Enjoy ASEAN foods in smoke-free environments
Percentage of youths exposed to secondhand smoke inside and outside the homes in ASEAN
Loading Chart
Common places with secondhand smoke exposure in ASEAN
Smoke-free settings (indoor) based on the national law in ASEAN
*No bars/pubs in Brunei.
** 100% smoke-free by law but not enforced
Smoke-free settings (outdoor) based on the national law in ASEAN
*New smoking areas will not be approved but existing outdoor smoking areas are still allowed to continue unless the business operators stop their operation.
**All playgrounds are smoke-free, while parks have the option to set up designated smoking areas.
***Parks and playgrounds may have designated smoking areas except for childcare and recreational facilities for children which should be 100% smoke-free.
Penalties or compound fees for violating smoke-free policy in ASEAN
Smoke-free Cities Asia Pacific Network (SCAN)
The Smoke-free Cities Asia Pacific Network (SCAN) formerly known as the Smoke-free Cities ASEAN Network, is a coalition of cities, municipalities, provinces, states and districts) in the Asia Pacific countries that support each other to achieve its goal of making their country smoke-free (FCTC Article 8).
SCAN was launched in Davao City, Philippines during the 1st Smoke-free Cities Regional Workshop in 2013. It was organized to bring together all cities, municipalities and provinces, and other different smoke-free settings, which includes heritage sites and cities in the ASEAN that are moving towards becoming smoke-free. SCAN provides a platform to share experiences and learn from the best practices on smoke-free of different cities, cities with different cultures but with a common goal. The establishment of SCAN has increased the awareness of the political leaders on the importance of creating and adopting strong smoke-free policies to make cities healthy and livable.
In 2015, the mayors and governors signed the pledge of commitment during the 3rd Smoke-free Cities Regional Workshop in Iloilo City, Philippines. SCAN officially accepted members coming from the 10 ASEAN countries. At present, there are more than 300 SCAN members.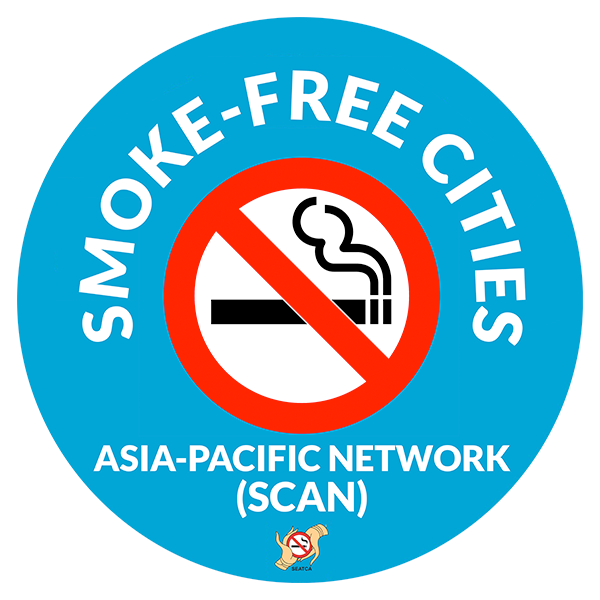 Smoke-free Cities Asia Pacific Network (SCAN) Summit
| Location | Year |
| --- | --- |
| Davao City, Philippines | 2013 |
| Balanga City, Philippines | 2014 |
| Iloilo, Philippines | 2015 |
| Krabi, Thailand | 2016 |
| Penang, Malaysia | 2017 |
Smoke-free Heritage Sites & Cities Alliance (SHA)
Smoke-free Universities Network (SFUN)
The Smoke-free Universities Network (SFUN) was launched in Mandalay, Myanmar in 2016. The People's Health Foundation (PHF) and SEATCA organized the Smoke-free Universities Workshop that initially includes medical universities only but was expanded to include non-medical universities. These smoke-free universities formed a network known as the Smoke-free Universities Network and plans to include other smoke-free universities in the ASEAN.
Several universities joined the selection for the Best Smoke-free University in Myanmar. Dr Myint Htwe, the Minister of Health and Sports, presented the awards to the recipients during the 2018 World No Tobacco Day celebration in Nay Pyi Taw. In recognition of their successful smoke-free campaign, the top 3 universities were recognized which includes the University of Medicine (Magway), the University of Dentistry (Yangon) and the University of Traditional Medicine (Mandalay).
Smoke-Free Sports in ASEAN
Smoke-free Cities Model: Philippines
Davao City
Davao City is the first local government unit to enact a Comprehensive Anti-Smoking Ordinance in 2002. The smoke-free policy was further strengthened by the enactment of City Ordinance 0367-12 in 2013. It stipulated that smoking of any tobacco products and vaping of any electronic device is absolutely prohibited in all enclosed places and outdoor public places. Davao City was awarded as the 1st 100% Smoke-Free Metropolitan City in the ASEAN region in 2013 by SEATCA.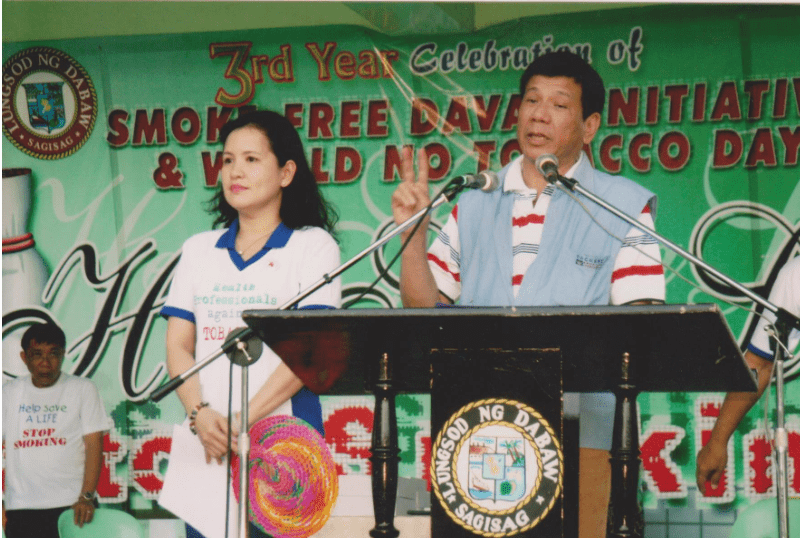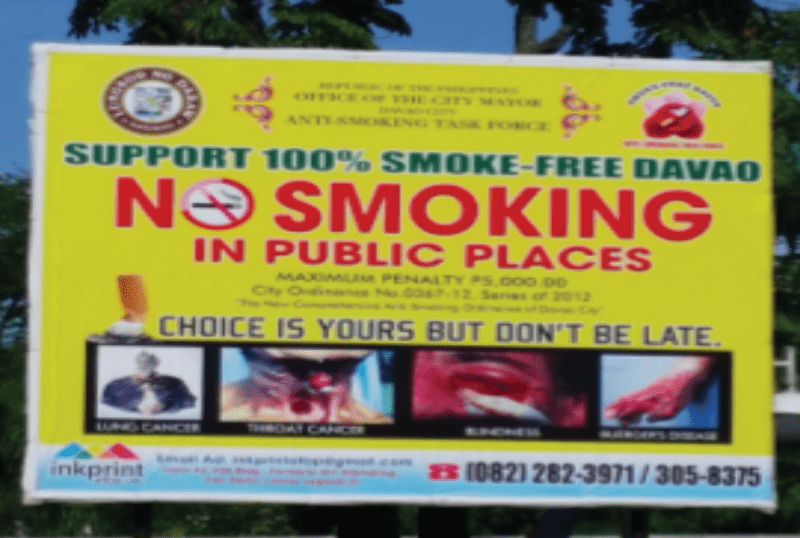 Malaysia: Blue Ribbon Award
The Blue Ribbon Campaign was initiated in 2013 as part of the initiative of the Malaysian Health Promotion Board (MySihat) to recognize and honour the significant roles played by individuals, organizations and institutions in advocating a 100% smoke-free environment in both indoor and outdoor areas in workplaces, restaurants or hotels. Currently, there are more than 300 premises were recognised as smoke-free through the Blue Ribbon Premises Certification. The role of media is honoured through a media award for raising awareness on the harmful effects of smoking and exposure to secondhand smoke. An outstanding achievement and special award were given to individuals, groups, institutions, communities, government agencies and other stakeholders who have shown excellence in tobacco control leadership. MySihat was also actively promoting and supporting the smoke-free cities initiatives in Malaysia, particularly in Melaka, Johor, Pulau Pinang, Kelantan and Terengganu. At present, around 33 smoke-free zones have been gazetted in these 5 states between 2011 and 2017.
Philippines: Department of Health (DOH) Red Orchid Award
The DOH Red Orchid Award is the first of its kind in the world. It aims to advocate and promulgate DOH Administrative Order 2009-0010 and Civil Service Commission Memorandum Circular No. 17, dated May 29, 2009 on the 100% smoke-free environment policy and pushing for full implementation of World Health Organization's Framework Convention on Tobacco Control (WHO FCTC). The awards started in 2010 in giving out recognition to 100% tobacco-free cities, municipalities, government offices and health facilities that are strictly enforcing tobacco control measures. The DOH Health Promotion and Communication Service manages the awards.