Human and Financial Resources for Tobacco Control
Knowledgeable and skilled human resources and effective multi-sectoral collaboration at different levels of government and society are necessary for effective development and implementation of a wide range of tobacco control activities. To this end, the WHO FCTC requires Parties to establish or reinforce and finance a national coordinating mechanism or focal point in order to develop, implement, periodically update, and review comprehensive multi-sectoral national tobacco control strategies, plans and programmes (Articles 5.1 and 5.2)
Map: Annual deaths attributed to tobacco-related diseases in ASEAN
Generally many countries still lack the necessary structural, human, financial, and technical resources to implement cost-effective and sustainable tobacco control programmes. Few national governments in ASEAN have a sufficient number of staff working full-time on tobacco control. Both Singapore and Thailand have strong tobacco control policies in place with support from a significant number of national level tobacco control staff, while other countries in the region need to build national capacity (human, financial, and technical) to effectively and efficiently deliver tobacco control.
WHO FCTC
Article 6 Guidelines recommend countries "dedicate revenue" to fund tobacco control and other health promotion activities.
Article 26 requires all Parties to secure and provide financial support for the implementation of various tobacco control programs and activities to meet the objectives of the convention.
View WHO FCTC Compliance
Map: Tobacco control and health budget in ASEAN
Tobacco control and health budget in ASEAN
The Way Forward: Innovative National Financing Solutions
In many countries tobacco control is often not a national priority. Consequently, domestic resources for WHO FCTC implementation are far from secure and must compete with other programmes for government funding. An effective way to address this is the introduction of dedicated surcharge taxes on tobacco and alcohol, which can aid in reducing consumption of these harmful products and, more importantly, provide a more secure funding stream for health promotion and tobacco control programmes.
Five out of ten ASEAN countries have established health promotion or tobacco control funds through surcharged taxes (Thailand, Lao PDR and Vietnam) and treasury budget (Malaysia and Singapore). Initiatives in Cambodia, Philippines and Myanmar are underway to establish similar fiscal mechanisms.
Tobacco control is under-funded
Governments collect more than USD 250 billion in total tobacco excise tax revenues each year worldwide, but spend only around USD 1 billion combined on tobacco control – with 95% of this spent by high-income countries.
Loading Chart
Note: Based on 87 countries with available data on public spending on tobacco control and tobacco excise revenue data. Expenditure on tobacco control for several of these countries was estimated from figures between 2004 and 2016, adjusting for inflation (average consumer prices, IMF World Economic Outlook 2016). Tax revenues are tobacco product (or cigarette) excise revenue for 2016 and 2015 (or where unavailable, 2014 or 2013 converted to 2016 values for the countries covered). Per capita value is calculated by using 2016 UN forecasted population age 15 years and above.
UN Declarations
"Recognizes that price and tax measures on tobacco can be an effective and important means to reduce tobacco consumption and health-care costs, and represent a revenue stream for financing for development in many countries"
Declaration of the United Nations 3rd International Conference on Financing for Development, Addis Ababa, Ethiopia, July 2015
"45. (d) Explore the provision of adequate, predictable and sustained resources, through domestic, bilateral, regional and multilateral channels, including traditional and voluntary innovative financing mechanisms.
"49. Promote all possible means to identify and mobilize adequate, predictable and sustained financial resources and the necessary human and technical resources, and to consider support for voluntary, cost-effective, innovative approaches for a long term financing of non-communicable disease prevention and control, taking into account the Millennium Development Goals"
Political Declaration of the High-level Meeting of the UN General Assembly on the Prevention and Control of NCDs, New York City, September 2011
Earmarked taxes: A Global View
* Countries that have established health promotion or tobacco control fund using earmarked tax for funding source.
Types of innovative funding mechanism in ASEAN
Funding Source
Years of Establishment
Details/ Total Budget (USD)
Ministry of Health Budget
Health Promotion Centre (operational budget), Ministry of Health, Brunei
2008
115, 942 (BND 160,000)* (2016-2017)
130,434 (BND 180,000)* (2017-2018)
Singapore Health Promotion Board
2001
183.33 million (SGD 253 million)** (2017)
185.61 million (SGD 245 million)** (2018)
Philippines Department of Health budget Philippine Health Insurance Corporation
2012
85% of incremental sin tax revenue earmarked for health

80% for Universal health coverage
20% for medical assistance and health enhancement facilities programme

Earmarked Surcharge Tax
Lao PDR Tobacco Control Fund
2013
2% profit tax plus LAK 200 (per pack)
116,700 (LAK 945,266,000)***(2017)
Thai Health Promotion Foundation (ThaiHealth)
2001
2% surcharge levied on excise tax from alcohol and tobacco
121.12 million (THB 4,275.7 million) (2016)
128.97 million (THB 4,372.1 million) (2017)
Vietnam Tobacco Control Fund
2013
1% excise tax, effective 1st May, 2013;
1.5% from 1st May, 2016; and 2% from 1st May, 2019
15.65 million (VND 355,379 million)
National Treasury Allocation
Malaysian Health Promotion Board (MySihat)
2006
1.65 million (MYR 7.1 million) (2017)
1.91 million (MYR 7.5 million) (2018)
Indonesia Local Cigarette Tax
2014
Distribution of 10% local cigarette tax revenue to provinces for health****
* - The estimate budget also covers other NCD prevention programmes (healthy eating, physical activity, school health and community programmes), in both children and adults.
** - Budget for all non-communicable diseases (NCDs) programmes.
*** -The total budget excluded the amount that failed to collect from imported brands as the tobacco industry refused to pay the 2% profit tax and LAK 200 per pack.
**** - 10% local tobacco tax surcharged for social development (50% of the amount is for health - 75% of the 50% allocation for health are to be used for preventive/promotive care including reducing NCD risk factors, 25% for construction and maintenance).
Governance and roles of health promotion/tobacco control funds in ASEAN
Type and Year Established
Type
Governed and chaired by
Report to
Role of organization
Granting agency
Policy development
Implementing health
promotion programs
Building capacity
Thai Health Promotion Foundation (ThaiHealth) (2001)
Autonomous agency
Board of Governors, chaired by Prime Minister
Cabinet and to both houses of Parliament

✅

✅

✅

✅

Singapore Health Promotion Board (2001)
Statutory Board under MOH
Board of Directors and chaired by independent Chairman
Minister of Health and Parliament

✅

✅

✅

✅

Malaysian Health Promotion Board (MySihat) (2006)*
Semi-autonomous agency under MOH
Chairman appointed by the Prime Minister upon the advice of the Minister of Health and Board of Directors appointed by the Minister of Health
Minister of Health

✅

✅

✅

✅

Vietnam Tobacco Control Fund (2013)
Semi-autonomous agency and a unit in MOH
Inter-sectoral Management Board chaired by Minister of Health
Government and National Assembly

✅

✅

✅

Lao PDR Tobacco Control Fund (2013)
Unit in MOH
Tobacco Control Fund Council (National Tobacco Control Committee)
National Tobacco Control Committee and Government

✅

✅
*MySihat will be integrated with the service of Health Education Division, Ministry of Health as part of the Government Service Rationalization Programme
Thailand: Annual budget for health (2010 - 2017)
Thaihealth funding for selected major NCDs risks reduction programmes (2017)
Vietnam: VNTCF distribution for tobacco control programmes (2017)
In 2017, a total 105 grantees were funded by VNTCF with a total of USD 15.65 million (VND 355,379 million) of the fund distributed among 28 ministries, mass organization agencies and 67 provinces/cities agencies and 10 hospitals. The projects supported mainly communication campaigns related to tobacco prevention and control, smoke-free development, capacity building for law enforcement.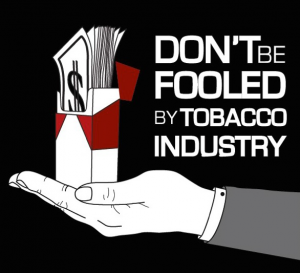 Don't Be Fooled
By Tobacco Industry