Protecting Future Generations from Nicotine Addiction
Youth smokers, particularly in low- and middle-income countries, are a huge potential market for industry's future growth. Tobacco companies target children and youths, whom they refer to as "replacement smokers" to replace older smokers who either quit or die from tobacco-related diseases. Youth smoking therefore remains the front line of the tobacco epidemic, as youths are more susceptible to tobacco marketing, and nicotine addiction is more entrenched in the developing adolescent brain. On average, most smokers start smoking before the age of 20.
Map: Annual deaths attributed to tobacco-related diseases in ASEAN
The tobacco industry keeps inventing new ways to sell harm through novel marketing schemes, attractive packaging (e.g.lipstick packs), new flavors, and new products to appeal to the young and first-time smokers. In ASEAN, menthol and flavoured cigarettes are unregulated and widely available. Single stick cigarette sales, which increase accessibility to cigarettes, are banned in all but three ASEAN countries (Indonesia, Philippines and Vietnam), while the sale of kiddie packs (containing less than 20-sticks) is still allowed in Indonesia, Myanmar and Philippines.
The emergence and rapid market growth of a new and wider range of alternative nicotine products such as electronic nicotine delivery systems (ENDS, which include e-cigarettes and are available in myriads of flavours) and heated tobacco products (HTP) are a new challenge for preventing nicotine addiction and other health harms. Such gadgets, with their sleek designs and flashy marketing easily appeal to youths and increase the risk for transitioning to conventional cigarettes, and some countries have already seen a significant rise in teen use. About 83 countries have either banned or restricted the sale of ENDS, including Japan and Australia that have banned e-cigarettes with nicotine. In ASEAN, four countries (Brunei, Cambodia, Singapore, and Thailand) already ban ENDS.
Transnational tobacco companies also produce ENDS and HTPs and promote these as being less harmful than conventional cigarettes and as smoking cessation devices. Noting that there are no long-term studies on the safety of these devices and insufficient evidence on their benefit as tools for smoking cessation, the WHO and some national health authorities, such as the Australian National Health and Medical Research Council (NHMRC) and the US National Academies of Sciences, Engineering, and Medicine (NAS), have recommended a precautionary approach and action to minimize harm to users and bystanders and to protect vulnerable groups such as young people, until clear evidence of safety, quality and efficacy are produced. For HTPs, the WHO recommends that these be regulated similarly to other tobacco products.
This chapter also highlights initiatives to protect present and future generations from nicotine addiction and tobacco harms.
Source of cigarettes for youth
Percentage of youth who purchased cigarettes in a store and were not refused purchase because of their age
Targeting youths, young adults and women
Menthol and fruit-flavored cigarettes sold in ASEAN
No Ban
Indonesia
Lao PDR
Myanmar
Malaysia
Philippines
Singapore
Brunei
Thailand*
Vietnam*
*Menthol flavor only
Countries that have banned kiddie packs (less than 20 sticks per pack) in ASEAN
Ban
Brunei (2005)
Cambodia (2015)
Lao PDR (2009)
Malaysia (2010)
Singapore (2002)
Thailand (2017)
Vietnam (2016)
No Ban
Indonesia
Myanmar
Philippines
Indonesia
A Mild, the most popular local brand sold in 12 and 16 sticks per pack.
Lipstick pack sold in ASEAN
Philippines
Marlboro, the most popular foreign brand sold in 10 sticks per pack.
Clear sign inside POS on prohibition of tobacco sales to minors
Required
Brunei
Myanmar
Singapore
Malaysia
Philippines
Vietnam
NO
Cambodia
Lao PDR
Indonesia
Thailand
Sellers request for evidence (reached full legal age) before sale
Required
Brunei
Myanmar
Singapore
Philippines
Thailand
NO
Cambodia
Lao PDR
Myanmar
Malaysia
Indonesia
Vietnam
Singapore: Ban emerging tobacco products
Smokeless cigars, smokeless cigarillos and smokeless cigarettes; dissolvable tobacco or nicotine; any product containing nicotine or tobacco that may be used topically for application, by implant or injection into any parts of the body; and any solution or substance of which tobacco or nicotine is a constituent that is intended to be used with an electronic nicotine delivery system or a vaporizer (e-cigarettes); nasal snuff, oral snuff, gutkha, khaini and zarda.
Ban/restrict sale of all types of heated tobacco products, electronic cigarettes, shisha and water pipe in ASEAN
Ban
Brunei
Singapore
Cambodia
Thailand
No Ban
Indonesia
Malaysia*
Philippines**
Lao PDR
Myanmar
Vietnam
Globally, about
30 countries have either banned or restricted the sale of e-cigarettes, including restricting/ prohibiting the sale or requiring marketing authorization for products that have nicotine.
*The regulation of vapour products is under the state jurisdiction.Four out of 13 states (Johor, Kelantan, Terengganu and Pahang) have banned the sale of e-cigarettes
**There are seven (7) e-cigarette related bills pending in the 17th Congress.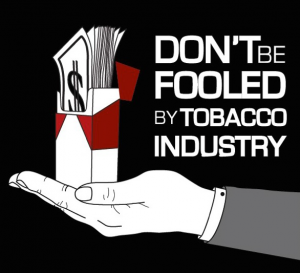 Don't Be Fooled
By Tobacco Industry
Malaysia: Prevalence of current electronic cigarette/vape users (2016)
Philippines: Balanga - World's First Tobacco Free Generation City
The tobacco-free generation concept prohibits the sale of any tobacco products including electronic nicotine delivery systems (ENDS) and other similar products to any citizen born on or after 01 January 2000 in the City of Balanga. This was enforced through the enactment of Tobacco Free Generation End-Game Strategy Ordinance of Balanga City, Bataan in 2016.
Singapore: Tobacco-free Generation 2000 (TFG 2000)
Singapore is the first country to call for a ban on sale of tobacco products to those born after 2000, initiated by the civil society. It referred to as the millennium generation (TFG2000), to protect the next generation from tobacco.
Thailand: Gen Z Strong
Thailand launched Gen Z Strong: No Smoking program targeting at those born between 1995 and 2009 or aged between 7 and 20 years in 2016 to be a smoke-free generation
The project uses social media and digital media to convince target participants not to start smoking and enhance their capacity to actively participate in advocacy campaigns.
One in two (53%) smokers started smoking before aged 18, 36% started when they were between18 and 24 years old.
73% of smokers cannot quit smoking - 30% of smokers spend about 20 years to quit smoking while 70% will addict to smoking until death by tobacco-related diseases.
Between May 2016 and December 2017, a youth network of 5,000 young tobacco control advocates was established nationwide. Gen Z young leaders zones were located in 4 regions of Thailand including Konkean, Ubonratchathani, Surin, Nakornratchasima, Srisaket, Chiangmai, Lampoon, Maehongson, Krabi and YNET BKK in Bangkok.